Fall is here!
This is absolutely my favorite time of the year, and not just because it's my birthday. People just seem happier. The weather is nicer. And Christmas and Thanksgiving are hands down my favorite holidays.
Between quarantine and growing older though, the holidays just haven't felt quite right the past few years, and it's been hard to get into the holiday spirit…
I've also really started to try and be more intentional with how I spend my time and really just enjoy life's little moments. I saw this awesome post on TikTok (where all good ideas come from) of this girl who made three paper chains for October, November, and December with a fun little activity for each day!
I loved the idea but wasn't quite committed to planning out every day for the next three months. So, I figured I would do a checklist / bucket list instead because I think that's a little easier to manage. I wanted a good mix of activities that you can do at home and some for going out and definitely as budget-friendly as possible.
So without further ado, here is my ultimate list of things to do this fall! Something to do every day from now until the end of the year!
*None of these links are affiliate links, just cool posts I found online!
October Bucket List
Craft something cozy to wear
Your new favorite fall staple doesn't have to cost a fortune. Try knitting or crocheting yourself something cozy like a scarf or a hat! And when someone asks where you bought it from you get to say, "Oh this thing? I made it myself." Check out this list of 25 Free Easy Crochet Scarf Patterns for Beginners.
Enjoy a day with the windows open
As soon as the weather cools down, I love opening up windows to let that fall breeze in. It makes my apartment feel fresher by improving the air quality, and turning off the AC helps with the electric bill!
Browse a Farmer's Market
Support your local farmers and check out a Farmer's Market near you to buy some fresh veggies and fruits. Farmer's Markets usually have a bunch of other handmade and locally owned products that are awesome to browse through. Find your local Farmer's Market with the National Farmer's Market Directory. Typically on Saturdays and Sundays, this is a great weekend activity!
Fly a kite
According to Google, October is the best time to fly a kite! I've never been much good at it, but it's always a great laugh. Head on out to a nice open space on a windy day and see how long you can keep your kite flying.
Carve pumpkins
C'mon, you KNEW this one had to be on the list. Did you know pumpkin carving originated from Ireland? They use to carve large turnips and potatoes! Can you imagine having those on our doorsteps each year??
Have a scary movie night
Even though we probably won't sleep after, here are the 50 best Horror Movies on Netflix right now.
Go to an apple orchard or a pumpkin patch
Apple picking is one of the most popular fall activities, but if you don't have an apple orchard nearby (like me) you can head to a pumpkin patch and get a similar experience choosing your own pumpkins!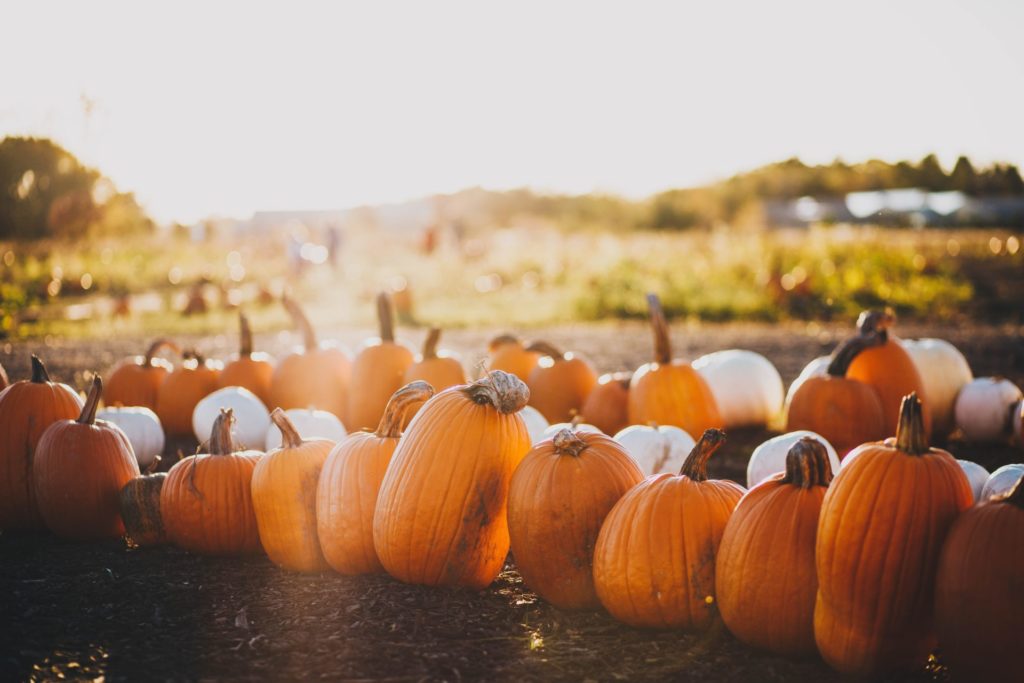 Take a ghost tour
Try and find a ghost tour that's near you. Or for an alternative read up on your state's ghost history! You can figure out how haunted your state is with this article from the Travel Channel. I apparently live in the third most haunted state in the US!!
Enjoy a slow cooker meal
Slow cooker meals are awesome year-round, and you can make some delicious fall recipes especially. Just throw in all the ingredients in the morning, have the slow cooker on all day, and your house is going to be smelling delicious by the time dinner is ready. Try out these 40+ Fall Slow Cooker Recipes from Delish.
Wash all your blankets
Get your blankets smelling fresh and ready to be used all fall and winter long. Pro tip: make a little nest out of them from right out of the dryer and just enjoy the warmth.
Bake a loaf of bread
If you didn't jump on this craze during the pandemic, now's your chance – if you did now's your time to shine! Baking bread is a lot easier than you might think. Here's a list of 100 different bread recipes you can try at home!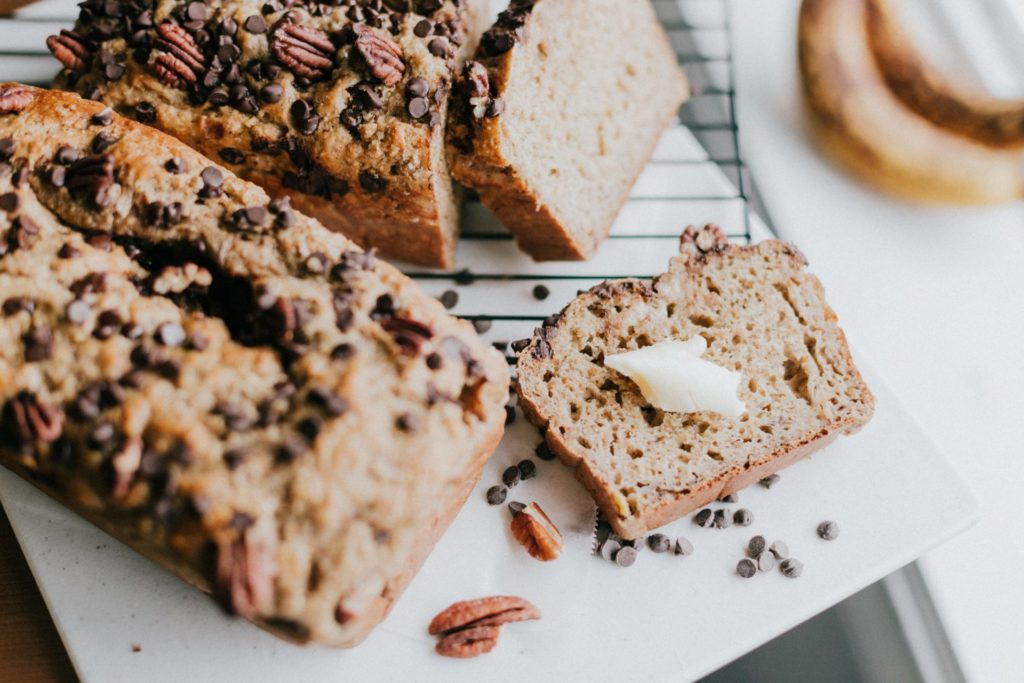 Reorganize your closet
For some of us in the south, the transition from summer to winter clothes isn't that drastic. But whether you completely switch out your wardrobe or just make sure you have a few layers handy, it's always nice to have a well-organized closet.
Donate old fall clothes
While you're organizing that closet of yours, it's also good to reevaluate the clothes and get rid of anything that's just not working for you anymore. Donate old clothes and make room for new ones!
Stock up on Halloween candy
The joy of becoming an adult is you don't have to go trick-or-treating to get all the candy your heart desires! (The sad part is it's not free) Sure you could pass it out, or you could lock your doors and keep it all to yourself…
November Bucket List
Take a long drive and enjoy the scenery
Long drives are so underrated!! Put some music on, maybe roll down the windows even and drive where ever the road takes you. Appreciate how the earth changes with each season.
Go to a football game (at least tailgate!)
Go sports! Cheer on your favorite football team while grilling and drinking. It's the American thing to do. (And if you need a favorite football team, I suggest them LSU Tigers!)
Journal your gratitude
Gratitude is a super beneficial habit to have in life. Write down 10 things that you're grateful for today. It's actually scientifically proven to boost your health!
Have a fall photoshoot
Put on your favorite clothes, grab a camera, and have a fun time taking fall-themed pictures.
Craft with pretty leaves
Leaves are free and plentiful during this time of year. Why not use them to craft some cute decorations for your home! Here are some gorgeous fall leaf crafts to make.
Check out a local fall festivity
From plays to music performances to festivals there are almost always ton of things to do around town this time of year. Check out one of your local fall activities and see what it's all about.
Enjoy a pumpkin spice drink
And don't let anyone talk you out of it! It's not basic, it is delicious.
Volunteer somewhere
Consider the joy of giving back and serving in your community. Make somebody's holidays a little bit better by volunteering at a local church or food pantry.
Watch the sunset or sunrise
Take some time to fully watch a sunrise or sunset.
Roast some s'mores by the fire
Light up a little fire and grab all your supplies, and have fun trying to crisp your marshmallow to perfection.
Have fall-themed nails
Whether you paint them yourself or go to the salon, get some nails that go along with the season.
Get creative with Thanksgiving leftovers
Thanksgiving leftovers for breakfast, lunch, and dinner! Here are 60+ different recipes for all those leftovers.
Do a random act of kindness
Spread some holiday cheer and do something nice for a stranger. Give those compliments. Smile at everyone. Sometimes small actions can have a big impact on someone else's life without us knowing.
Have a plain old lazy day
Lazy days can be hard to come by when you get older. Especially living in a society that makes us feel like we always have to be doing something. Make sure to schedule at least one lazy day in and bask in the joy of doing nothing.
December Bucket List
Drink hot chocolate
My new favorite is crockpot hot chocolate! So easy to make and sooo chocolatey! Don't forget those marshmallows, and put in a candy cane for extra flavor as well.
Drive around and look at lights
There's something magical about driving down a road full of houses lit up with lights. Take a drive and see who has the best Christmas decorations out. Bonus points if you find that house that's synced with the Christmas radio!
Watch Christmas movies
And Hallmark makes it easy with their "Countdown to Christmas" every year! If you haven't watched "Elf" yet is it really even Christmas time?
Go ice skating
You ever go in with such high hopes of finally learning how to ice skate, and then just end up crying laughing the whole time while you fall on your butt. Same.
Wear pajamas all day
If you're working from home, you probably already do this every day!
Craft a snow globe
Snow globes are an awesome craft to make, and are actually pretty easy to do! This blog post shows you how to make a snow globe out of a mason jar.
Make a Christmas ornament
Remember all those ornaments we used to make in school?? Another fun and easy craft is making your own Christmas ornament. You can get really creative with this one, and they can be as simple or extravagant as you want! Here are 75+ Ornament Ideas.
Have a snowball fight
It's always a good time pelting each other with snow. Just not in the face! If you don't live in a state that sees snow usually, you can pelt each other with marshmallows instead!
Catch up with an old friend
The holidays are a great excuse to stop thinking about how those old friends are doing, and actually call them up to see.
Wear an "ugly" Christmas sweater
This year National Ugly Christmas Sweater day is on December 20th!
Reflect on the past year
Reflection helps us become better versions of ourselves. It can help us figure out where we want to go next and what we want to accomplish. Here are some questions to help you reflect on this past year.
Read classic Christmas stories
Some pretty classic ones are Matthew, Mark, Luke, and John. 😉
I always love reflecting on the story of Jesus around this time of year. But if you're not religious, there are plenty of classic and heartwarming Christmas stories. Here is a long list of Christmas stories you can browse through!
Go to the dollar store and grab stocking stuffers
The dollar store has got to be one of the best places to find awesome trinkets for stockings. With just a little bit of money, you could have a whole butt load of cool stocking stuffers!
Eat a candy cane (or two)
We always put ours on the Christmas tree for easy access!
Take some time for yourself
With the hustle and bustle of the holidays, sometimes we forget to pause and take a little me time. Make sure you carve out some time to breathe and do something for yourself!
Get the rest of the list of 92 things to do this fall by downloading your free bucket list printables! And if you're not feeling something on this list, I've also included blank checklists to create your own Fall 2021 bucket list! Snag yours below.
I am really looking forward to seeing how many of these fall activities I can check off! By no means do you have to follow them in a particular order, in fact, you can even check off multiple in one day. The main point is to bring some more fun and intentionality into your days!
What would you add to this list of things to do for fall? Comment below!