Madrid is the capital city of Spain, and the first place I've ever traveled solo! I flew into the city a day before my study abroad group (had to snag that cheaper flight), and was able to spend one day in Madrid exploring the city on my own. I really did not have any plans once I flew in – typical me! – but had a great time anyways.
This is my top to-do list if you have only one day in Madrid!
General Tips:
Bring walking shoes! Walking is one of the easiest and best ways to get around Madrid so make sure your feet are comfortable.
The sun doesn't set for a while so expect long days!
It gets quite hot in the summer (mainly because it is right in the middle of the peninsula) so try and carry water around with you to stay hydrated walking around!
9:00am: Rise and Shine
Get your day started around 9:00 am, Spain doesn't get bustling until around 10, and head on over to the Circulo de Bellas Artes to grab some breakfast with a view! This museum has a rooftop restaurant with an almost 360` view of the city that you can see for a grand total of 4 euros. While you're enjoying the fresh air and sights, wake up with some café con leche and tostadas con tomate y jamon (toast with tomatoes and ham) – a typical Spanish breakfast!
10:00 am – 2 pm: Explore
One of the great characteristics of Madrid is how walkable it is! After breakfast, explore the city at your leisure. Head down Gran Vía and do some shopping. Stop by Puerta del Sol and see the epicenter of Madrid – sometimes you can even catch a live performance! Get lost (well not too lost – you're on a schedule!) wandering through some of the most popular neighborhoods like Malasana, La Cheuca or La Latina and search for some unique souvenirs to take back home.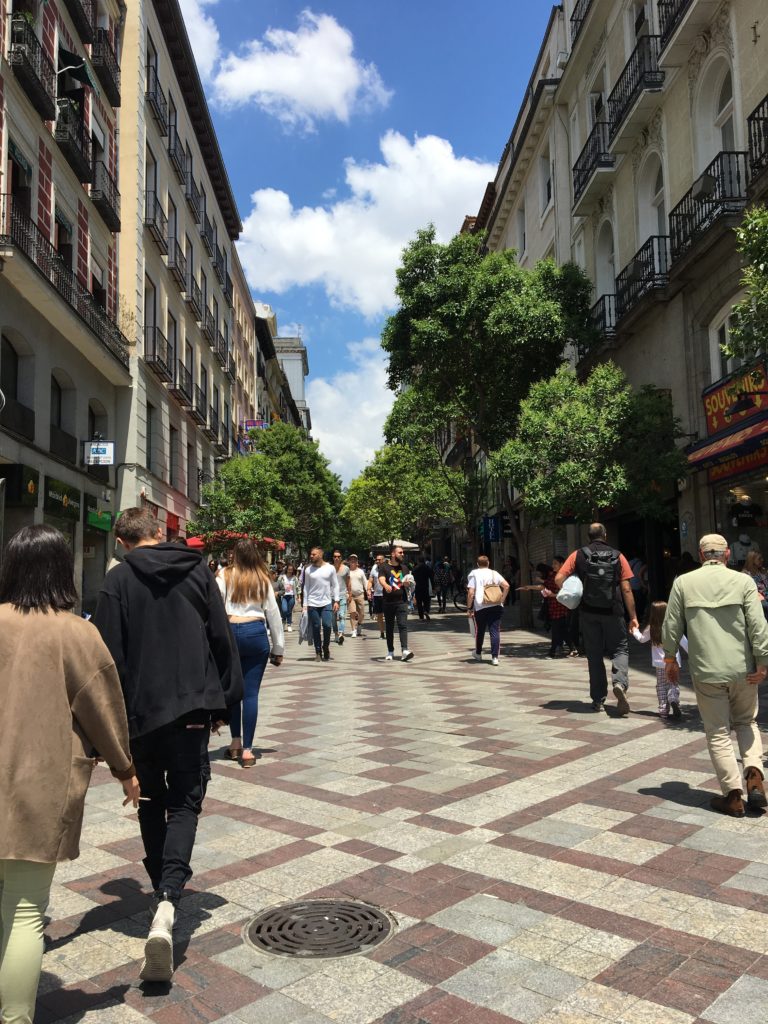 If you start getting hungry, pop into a bakery or small shop and grab a snack to keep you fueled – the Spanish don't eat lunch until 2! But don't fill up too much, lunch is the biggest and most important meal of the day here and you won't want to miss out.
If you can make it to the Palacio Real, the palace where the royal family use to live, and the Catedral de la Almudena they are worth the walk. You don't have to go inside to admire the beauty of the palace, but pop into the cathedral and take a quick peek, almost all cathedrals are free to enter in Spain! (they just ask for a donation if you can spare it)
2:00 – 4:00 pm: It's lunch time
After all that exploring, I'm sure you've worked up an appetite! In Spain, they go BIG for lunch. With only one day in Madrid, you won't be able to experience all of the amazing options, but whichever you choose you won't be disappointed!
Menú del Día
Most restaurants offer a menu del día for around 10-15 euros and includes an appetizer, main dish, and either coffee or dessert. Once you see restaurants opening up again follow the locals to find the best places! They should have the menu posted outside so you can choose before you sit down. I'd recommend one with paella – an amazing and popular Spanish seafood dish.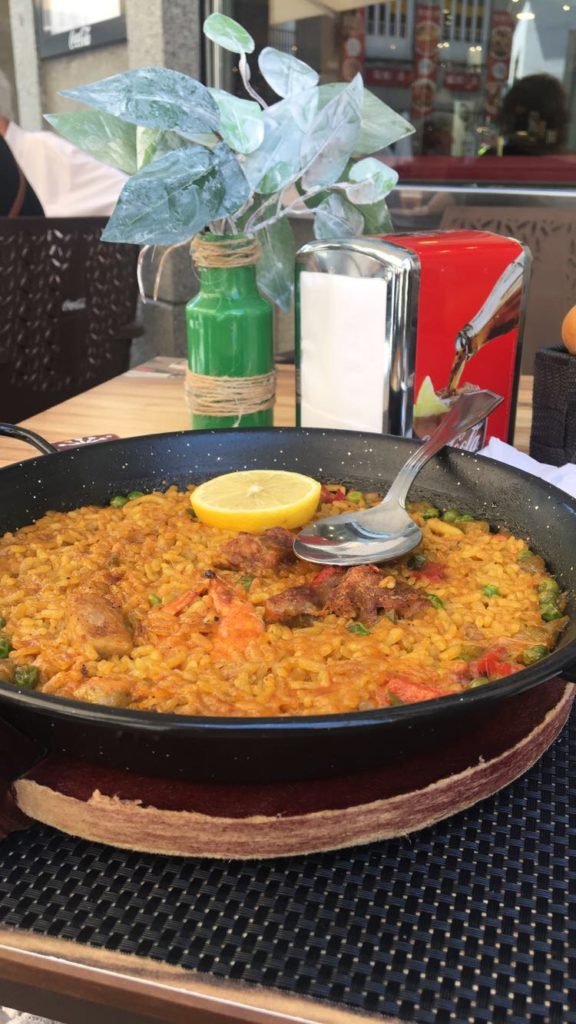 Tapas
Another popular way to eat lunch is by doing a tapas crawl! Tapas are basically a vital part to life in Spain. If you have time, look up all of the different stories of where tapas originated. There's tons! A tapa is essentially an appetizer or a small portion of any kind of food. The best way to do a tapas crawl is to find a street with lots of bars and bar hop! This way you can have an assortment of tapas till your tummy's content. 🙂
Or, another fun way is to find one of the markets near you, like Mercado de San Miguel. They typically have tons of different varieties of food that you can taste, some exotic (like sea urchin!) and some your typical Spanish cuisine.
One other option I'm going to include for lunch – because I just really loved it – is Takos Al Pastor! They have amazing options for tacos, quesadillas, and margaritas. They open at 1:30 and I would advise getting into line early if you want a seat inside, because this place fills up fast!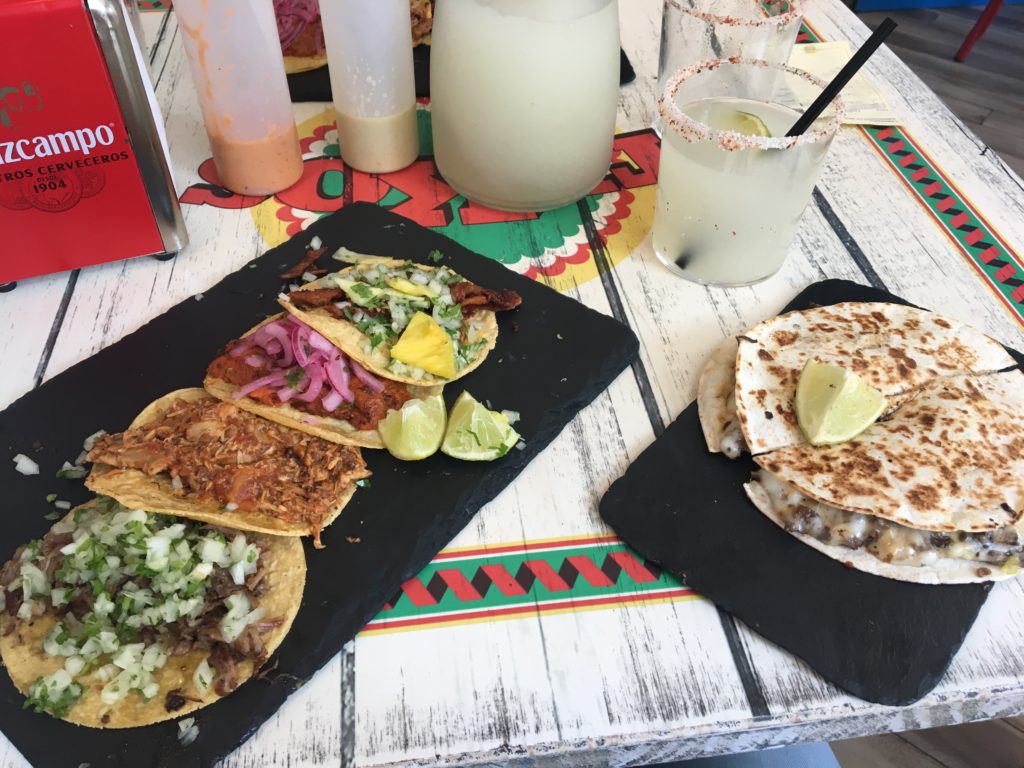 4:00 pm – 6:00 pm: Retiro Park
After all that food, I'm sure you're in the mood to just lie down somewhere. Head on over to Retiro Park, or any park but Retiro's the best in my opinion, and find a patch of grass to lie down in. Maybe you can even participate in a small siesta (Spanish for nap) – I'm all for experiencing the culture! Or, try and walk off all of those calories by exploring the park. There's lots to see and do, including the Crystal Palace and taking a rowboat out on the lake.
6:00 pm – 8:00 pm: Let's see some art work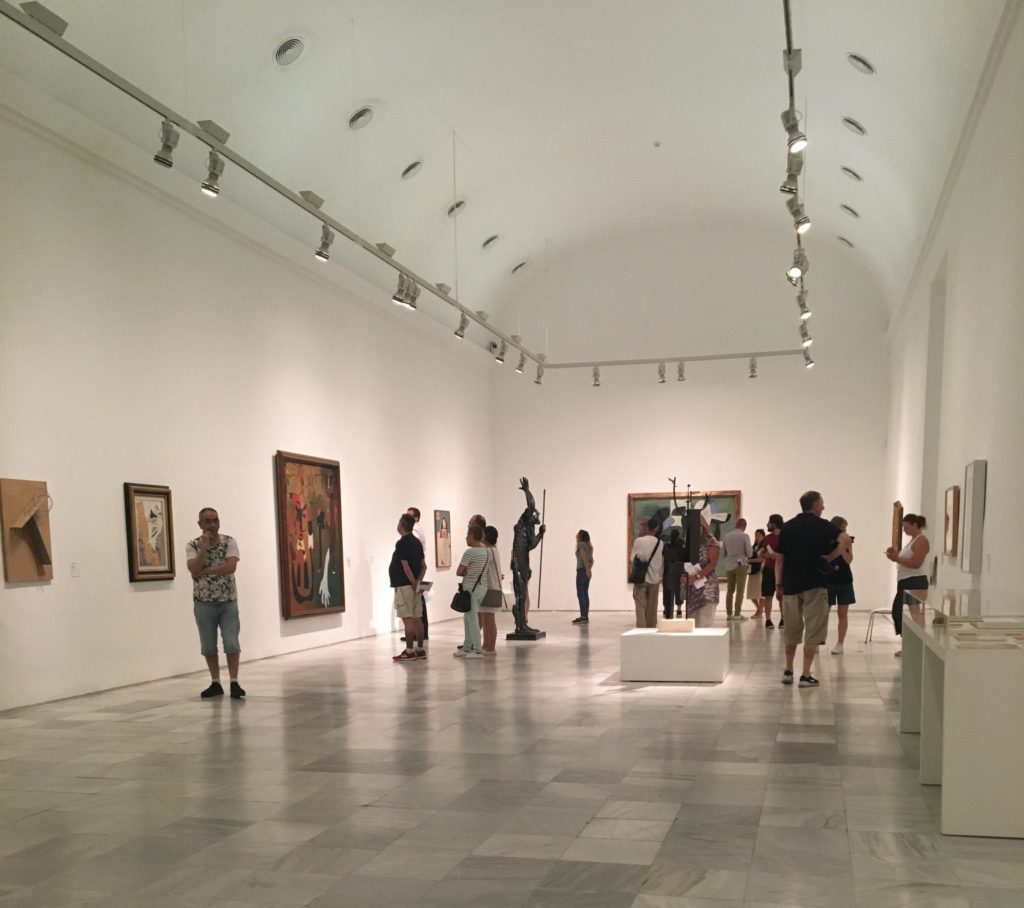 Madrid is home to both the Prado Museum and the Reina Sofia, some of the best museums in Europe, and are both a short walk from Retiro Park. If you are into classical artwork, I would suggest the Prado museum. But if you would like to see more contemporary art like Dalí or Picasso head to the Reina Sofia. This museum also houses Guernica, painted by Picasso in 1937 depicting the Nazi bombing of the town. It is one the most powerful and moving pieces of art I have seen.
If you're not a museum person, maybe you like graffiti artwork? The Tabacalera is located in the area of Embajadores and has impressive street art work. It was somewhat hard to find, but if you just ask around someone should be able to point you in the right direction. When you see the walls of graffiti – you've made it.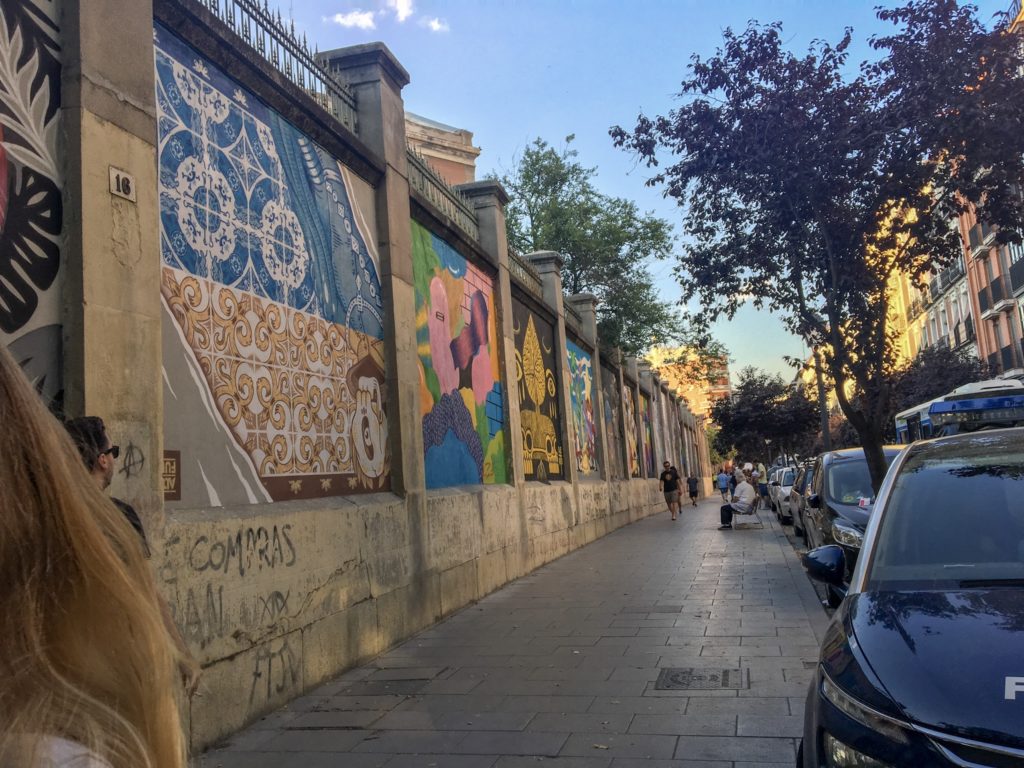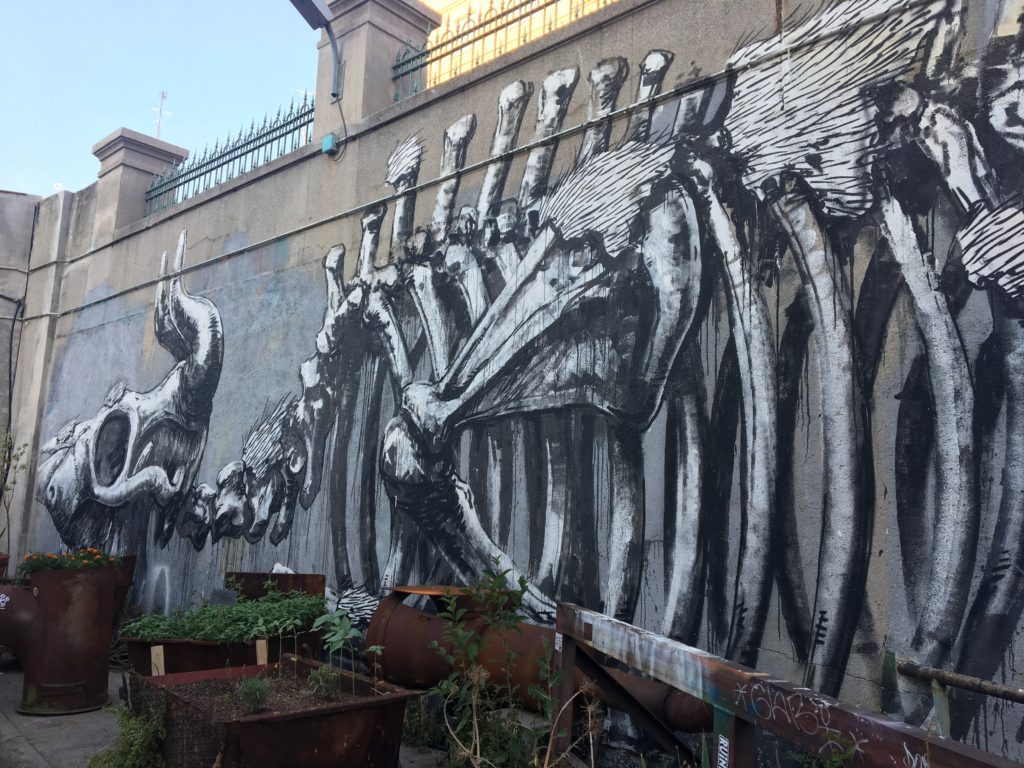 Head inside to see the almost underground work of artists and possibly catch a live performance. It felt almost private and secret, but don't worry it's open to the public! This was one of the coolest things I've seen in Madrid and a great option to get your art fix if you're not into museums.
8:00 pm – 10:00 pm: Dinner Time
For dinner, head over to the world's oldest restaurant, Sobrino de Botín, near Plaza Mayor. This restaurant opens at 8pm, and I suggest getting in line early unless you can reserve a seat beforehand. Open since 1725, Sobrino de Botín has been visited by numerous famous writers, poets, and politicians alike. Try the most popular dish, suckling pig, if you up for it.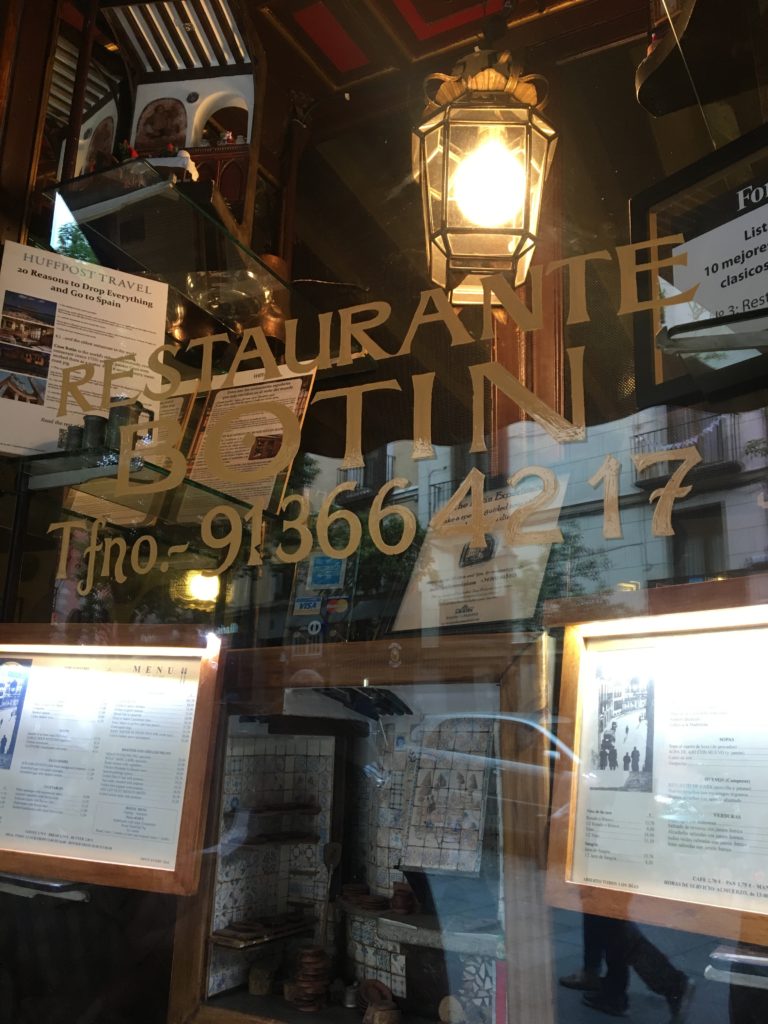 10:00 pm – 11:00 pm: Chocolate con churros
Another Spanish tradition I love is chocolate and churros for a late night snack! One of the most famous chocolaterías in Madrid is Chocolatería San Ginés on Pasadizo de San Ginés, near Puerta del Sol.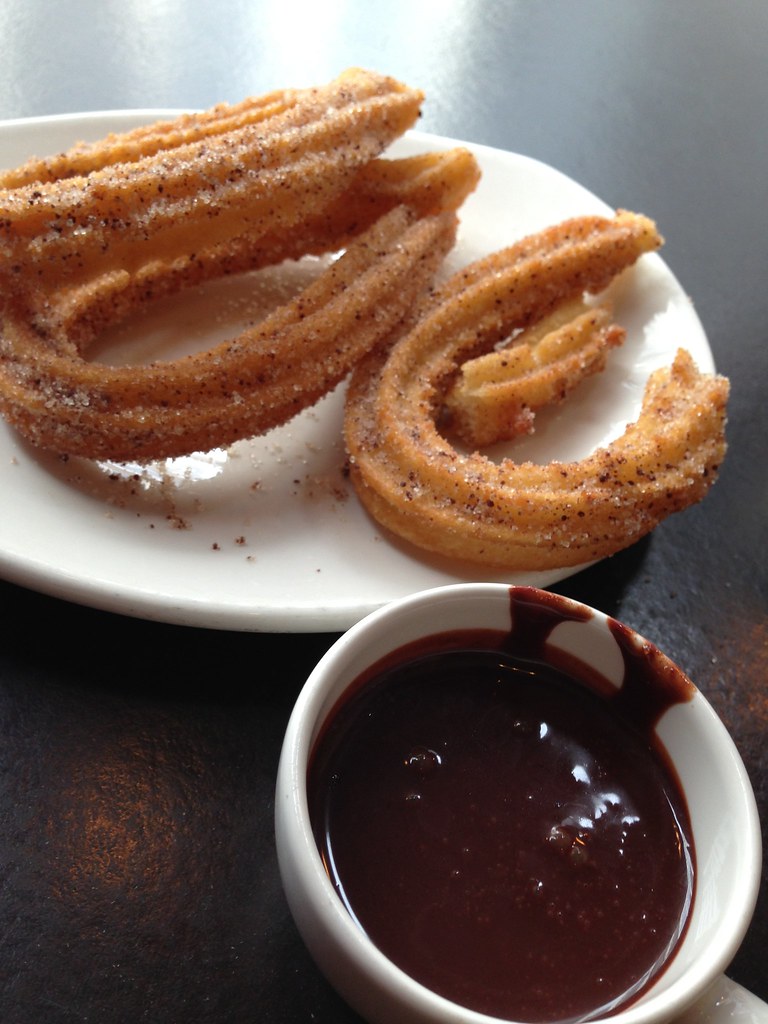 11:00 pm – ??: Party till the sun comes up.. or just go to bed?
One thing about Spaniards that I learned during my stay is they love to party until the wee hours of the morning. Most clubs don't close until 6 or 7am! If you're up for it, go out and enjoy your night in some discotecas. Kapital is a popular seven story club, each level with a theme of its own! The party doesn't start until around 2am though, so you probably have enough time to take a quick nap before dancing the night away!
Or, my favorite: bedtime! After all that walking and exploring a new city, you might barely have enough energy to brush your teeth before crawling into bed and knocking out.
Either way, you just spent a whirlwind 24 hours in Madrid! Congrats!
I hope this post helps on planning your day in Madrid! If you do find more time in this amazing city some other great sites to visit would be:
Santiago Bernabéu Stadium – The home stadium of the famous soccer team Real Madrid
Temple of Debod – an ancient Egyptian temple and museum in a middle of a park
Palacio de Cibeles – an exquisite and important political building of Spain
City of Toledo – use to be the original capital of Spain before Madrid, is only an hour's drive and a great day trip! (post coming soon)
Is there anything you would add to this list? Comment Below!
Pin for later and to share with a friend!